By New Jersey Stage
(NEWARK, NJ) — The Institute of Jazz Studies (IJS) at Rutgers University-Newark is now home to the collection of nearly 1,000 artifacts that belonged to late jazz icon William J. "Count" Basie Jr. The Count Basie Collection includes his pianos, Hammond organ, photos, correspondence, concert programs, business records, housewares and press clippings. Scholars, curators, writers, students, filmmakers, and music aficionados also will find clothes, accessories, scrapbooks, and audiovisual material from Basie as the collection comes "home" to reside in the Red Bank, New Jersey native's home territory. Items including a Grammy, Downbeat award, and one of Basie's signature ship captain's hats were on display at the official announcement of the acquisition on June 13, 2018 at 15 Washington Street in the Great Hall.
"Although the materials cover the entire years of Basie's lifetime, the collection represents the latter years of Basie's life and career particularly well, including a large number of accolades Grammy awards, honorary degrees, and proclamations," said Wayne Winborne, executive director of IJS. "It's important to note here that there are several boxes of materials related to the life of Catherine Basie who was herself a very charismatic and interesting woman. She was Basie's wife and life partner for over 40 years and was very involved in the community with young people in her neighborhood and in the civil rights movement. She will no doubt be a subject of historical examination."
According to Winborne, the acquisition of Basie's collection is a perfect fit for Rutgers-Newark and the Rutgers University Libraries with IJS long recognized as the world's foremost archives and research facility devoted to jazz, as well as the University's proximity to Basie's hometown of Red Bank, approximately 40 miles south of IJS. In addition to hundreds of artifacts, Rutgers-Newark now also retains the rights to Basie's name, likeness, and trademark. The collection will become available to the public in the near future for research and exhibition.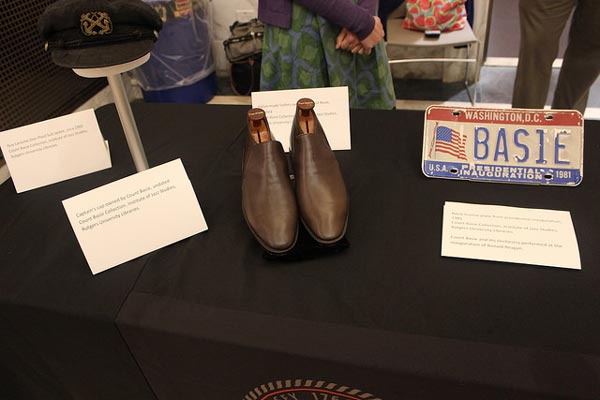 President and Chief Executive Officer of New Jersey Performing Arts Center (NJPAC), John Schreiber, and Executive Director Emeritus of IJS, Dan Morgenstern, both shared fond memories with the music legend. Schreiber spoke about being on the road as a manager twice for the Count Basie Orchestra. "Basie was this really gentle, kind, twinkle-in-his-eye, brilliant guy. He never said much but he was on time."
The Honorable Ras J. Baraka, Mayor of Newark, New Jersey, and Amy Niles, President and Chief Executive Officer of WBGO, also made remarks at the announcement, in addition to Joy Rosenthal who spoke on behalf of the Basie estate.
One of the giants of jazz, a global icon, Count Basie remains one of the most popular and recognized figures in American music, even now, 34 years after his death. He was a jazz pianist, organist, bandleader, and composer. He enjoyed a career that spanned more than 60 years and helped to elevate jazz as a serious art form. Count Basie established swing as one of jazz's predominant styles and solidified the link between jazz and the blues.
Count Basie's accolades are many. He earned nine Grammy Awards and made history in 1958 by becoming the first African American to receive a Grammy. Four of his recordings have been inducted into the Grammy Hall of Fame: One O'clock Jump (1979), April in Paris (1985), Everyday I Have the Blues (1992), and Lester Leaps In (2005). In addition to his music, he also received numerous awards and honors from around the world for his humanitarianism and philanthropy.
Rutgers University – Newark (RU-N) is a diverse, urban, public research university that is an anchor institution in New Jersey's cultural capital.  Nearly 13,000 students are currently enrolled at its 38-acre campus in a wide range of undergraduate and graduate degree programs offered through the College of Arts and Sciences, University College, the Graduate School, Rutgers Business School-Newark and New Brunswick, the Rutgers Law School – Newark, the School of Criminal Justice, and the School of Public Affairs and Administration. RU-N is exceptionally well positioned to fulfill higher education's promise as an engine of discovery, innovation, and social mobility. It has a remarkable legacy of producing high-impact scholarship that is connected to the great questions and challenges of the world. It has the right mix of disciplines and interdisciplinary centers and institutes to take on those questions and challenges. It is in and of a city and region where its work on local challenges undertaken with partners from many sectors resonates powerfully throughout our urbanizing world. Most importantly, RU-N brings an incredible diversity of people to this work—students, faculty, staff, and community partners—making it more innovative, more creative, more engaging, and more relevant for our time and the times ahead.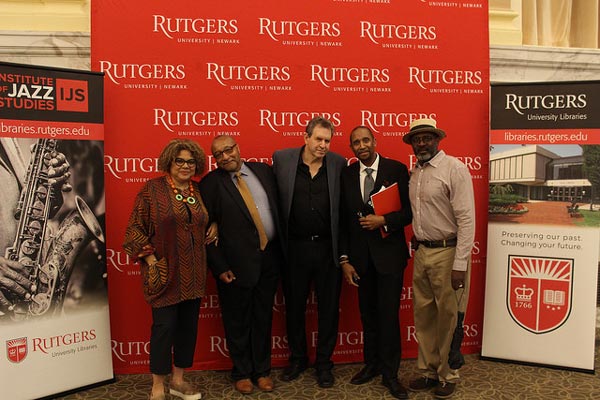 Photos by Suliman Olatunji